Kids, this is a story about How I Met Your Mother – or not? At last! I finally get the chance to finish the series. Yes, starting from Season 1 down to Season 9. Ha-burn! I just can't help but get swoon and get so attached as the story goes to its finale. Some had their two thumbs up while other got so disappointed, but for me HIMYM will always be one of my greatest favorite Rom-Com TV series. You know why? Because there are a lot of stuff going on in each episode.
1.) It's Legen—- wait for it Dary! It's Legendary!
What I love about the show is that they always pull off great moments and cool stuff that are "legendary material." It's like dreaming the dream, and baby "That's The Dream."! Barney also have these "made up" challenges and he always end up making neologisms and making theories almost about everything that makes the show more interesting and more fascinating.
2.) A Love like Marshmallow and Lilypad.
Oh baby, here's to a tons of "awwwwwes", "the sweetest" and I just cried a lot every time it comes to these love birds. Yes, we all dream of having that someone who is not only a lover but someone whom we can always have that mental synchronization. Someone whom you can consider your best friend too. I also love how they totally drive each other crazy through thick and thin.They also have tests and trials in their relationship (before & during marriage), but despite all those break ups and struggles they will always come back in each others arms. I love how they also tend to "Pause & Unpause" their fights to give way for what's important – their love for each other. They are Marshmallow and Lilypad indeed.

3.) Have you met Ted?
Ted has been one of the major characters, well aside from the fact that he is the one telling the story. He always ends up giving us lessons that will truly be applied in how we view life and how we value it. When it comes to love, he always end up being broken and having to face all those mistakes, even leading to almost giving up. But despite of all those "trial & errors" and downfalls, he was still able to have his happy ending in the end.
4.) The "Barney Stinson" moves and surprises.
This is also one of the reasons that got me hooked. Barney always gets to pull off something out of his sleeves. He always end up stirring and messing with your emotions once in a while but at the end of it, he assures you that he will always do everything just to show how much you mean to him. He can be quite a psychopath for doing that, but he is just as fragile and messed up as everyone else who had their heart broken at first.

5.) Robin Scherbatsky reporting!
I've always been one of those girls who can easily adopt and more likely to be one of the boys. And that is why I love Robin. Aside from she's the beauty of the group, she can totally rock and roll every cool stuff there is in the awesome definition. Way the go girl! But every gal has their secrets and fears and that is why Robin also tend to make tons of mistakes when it comes to investing her emotions. She is always unsure and always end up doing wrong decisions. But no matter how she hits hard on the rocks, there will always be someone who will love her no matter what the cause is.
6.) "You can ask the universe for all the signs you want, but ultimately, we see what we want to see when we're ready to see it."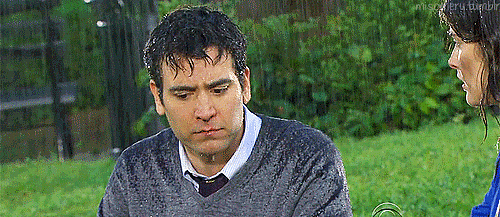 The universe. We usually asks for signs to be able to find the love of our life or someone whom will be there for us for the rest of our lives.It may actually sound cliche. The universe is not really the one responsible for every phase of life specially when it comes to love. I believe that the only one who is responsible for that is not other than the best author of our story. The Lord. And that just hits us hard, because we can never depend our destiny or fate on the universe.

7.) Getting goofy with the Gang.
It's nice to be surrounded with the awesome, coolest and goofiest group of people – none other than your friends. This is what I love about the HIMYM Gang. They might get on each others nerves, but they always get the best out of each other as well.
8.) "Our booth was wherever the five of us are together."
I just love the bond they have and how they value each and every ones potentials in every aspect. Lily has been the one who always wants the gang to be always be intact and be there on their "big moments", despite of all those twists and twirls they get to experience specially between Ted, Robin and Barney.

9.) The 2-minute date.
Relationship Goals you say? HIMYM have tons of packages for you too. Time exerted is a time that will never be forgotten. I love how Ted was able to pull of a 2 minute date just to get the girl of his dreams to say yes and go out with him. Despite the busy schedule of Stella (one of her exes), he was able prove that everything is possible as long as you are willing to give your time and effort to the one you love.
10.) There's always someone out there for you.
Yes, it might take a while and may even get you to experience all those different levels of heartaches. Like Ted, which took him 25 years before he was able to finally meet the mother of his kids. Always remember that there is always someone meant for you. When you find that someone, you'll just know that he/she will be the one whom you'll be spending the rest of your life with. By that time, it will be totally legendary, and you won't have to wait for it anymore.
There you have it! It's not just another series that makes you fall in love, make you laugh to shed all those blues away or even make you cry for the sweetest moments. HIMYM has tons of lessons to be learned and you just have to see it for yourself.