Genre: Animation. Comedy. Drama, Rated-G
Disney never fails to make movies that touches the heart and brings out the child in each and everyone of us. Under the production of Pixar, they've come up with another movie that is not only for the young ones but also to those who are young at heart.
Last Sunday, Yobo and I went to the cinemas to watch out the movie, Inside Out, as a part of our date for our anniversary. At first I was thinking if we should go for it. In the end, I was glad he convinced me!
Inside Out
is movie about a girl named Riley who possesses the five (5) essential emotions that every individual have. The one we call
Joy
(
who brings all the positiveness in life
),
Sadness
(
the opposite of Joy, bears all the depressions in life
),
Fear
(
who makes us feel afraid about certain stuff and the unknown
), we have
Disgust
(
who complains and just being so repulsive about things
) and lastly
Anger
(
who easily gets provoked and always deals with impulsive decisions
). They are the ones who makes Riley in a normal state until something came along by accident, which you really have to see for yourself.
Here are the 10 things that I've learned from the movie and why it is also starting to be one of my Pixar-Disney favorite!
1.) Family always matters.
– Little Riley with her Mom and Dad at the park.
Family will always be the one to mold us first! It is always and will be a part of us that is the strongest and will definitely be the one to make us who we are. They make us happy and just gives all the loving that we need.
2.) Friends are for keeps.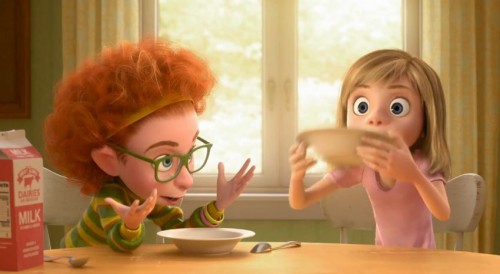 – Riley with her bestest friend.
Every one of us have our BFFs and they are always for keeps despite every changes in life and the distance that may separate us. But the way we value the people and the friendship will always be there no matter what the odds that can occur.
3.) Telling the truth is always the best policy.
– Riley sharing in her class about the big move.
It is hard to tell the truth especially when we are very conscious of what others might think of us, but life is always like that. There will always be instances that can trigger our honesty but what matters is that we always tell the truth whether it be about our integrity, values and our feelings.
4.) We are never too old to goof around.
– Riley's Dad and Mom bidding her goodbye and wishing her luck on her first day at her new school.
Life is always full of challenges, but a little bit of laughter and goofing may help us forget all the stress and sorrows in life. Sense of humor and making fun of it just makes us feel more calm and relax. Specially able to do it with the people who truly cares for us and not afraid to make a funny "monkey" face.
5.) We all have our own personality.
– Riley's Islands of Peronality.
We can never judge someone because of just how they act or be different from the others. That is what makes us unique. We get to be someone far from the ordinary. Because each and every one of us have that extra ingredient that makes us more special.
6.) We always have that "imaginary friend" who sticks to us in the end.
– Bing Bong getting the rocket and setting it up for Riley.
When we were young, we had a friend that we can be and talk to. They are the ones that made us value our imaginations and how we value friendships. They just became a part of us and often forgotten when we grow old, but they don't. They always want to do those stuff that will make us happy.
7.) Fear makes us strong.
– Fear starting to panic because everything is starting to fall apart.
Being afraid of something is not being coward, sometimes it just makes us a lot stronger. It is often the kind of feeling that makes us want to take the next leap.
8.) Anger is never the answer to everything.
– Anger being very impulsive.
We become very impulsive when our emotions is covered with anger. We tend to do things that we really don't want to do and say things that shouldn't be said in the first place. Learning to control someone's anger is sometimes the safest and the most brave thing that one can do, because sometimes filling our minds and hearts with this kind of feeling often lead to destruction.
9.) Complaining and being disgusted will get us no where.
– Disgust trying to take over.
One should learn to adjust in changes and other stages in our life, we can never get what we want because there are just instances that we have to deal of what we have this world we live in. It can't hurt to complain but too much of it may lead to being bitter in life and the tend to shun others.
10.) Sadness will always remind us that we can never be Joyful if we haven't experience it first.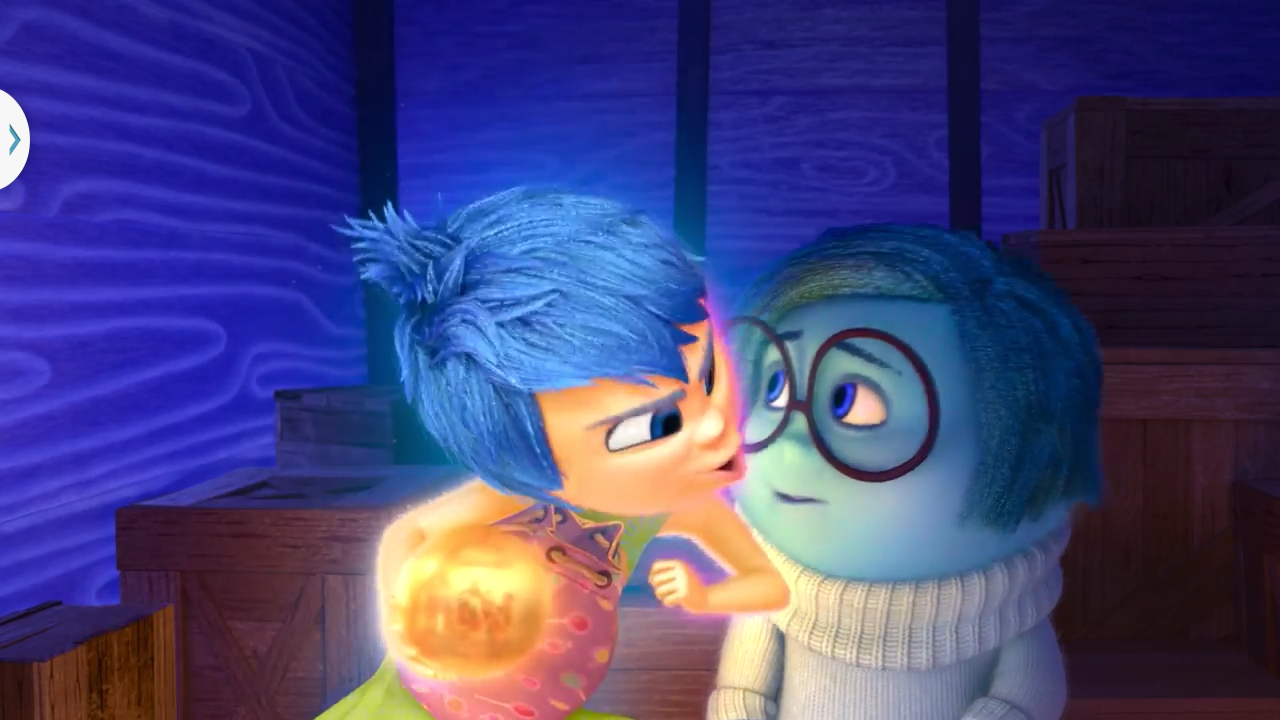 – Joy and Sadness getting hype and encouraged.
Sometimes we tend to hide what we truly feel by being happy outside, but the truth is we are hurting inside. Sometimes we also tend to suppress being sad because we just want to feel every possible happiness there is. But what we should always bare in mind is that, we cannot say that we are happy if we haven't been sad in our life. That is why sometimes having the same feeling at the same time can actually feel better and make us better. It doesn't hurt to cry.
This movie is really worth your time and to watch. Honestly speaking, I just cried two (2) times in this movie. Pixar also have a simple treat before the movie starts, so if you haven't seen it yet, go to nearest theaters and start knowing what is inside of you.
I am positive your gonna love it!