I love sweets and always fall in love with something that is cute and creative. I even got hooked to Cupcake Wars because of all the tasty treats and the coolest themes. I remembered watching one of its episode with my sister and we just got hooked to it.
One of my girl friends, Jane, talked about the coolest motifs if ever we are going to get married. Since both of us loves sunflowers and Star Wars we really get along. As she was looking for cute, simple and cost friendly theme she suddenly came across the cakes and the force was just so strong that it led us to the nicest and cutest Star Wars cakes. We just kept drooling and was bedazzled.
Darth Vader Groom and Stormtrooper Bride | Credits to: Genefy

AT-AT Walker Wedding Cake | Credit to: Eric

Leia and Han Solo with a Stormtropper
This is one of my favorites. Because the trooper is just so big and there are tons of stars.
Since my birthday is also a month away these makes me want to have them all for that day. So if ever, you still don't have any idea and planning to give something for my big day, this will just do the trick!

The Millenium Falcon Cake
Stormtroopers, Light Sabers and Dart Vader Cupcakes | Credits to: Stephanie King

Darth Vader with Stormtroopers Cupcakes

Stormtrooper Marshmallow Cupcakes | Credits to: Maija Moments

Have you seen these droids cupcakes?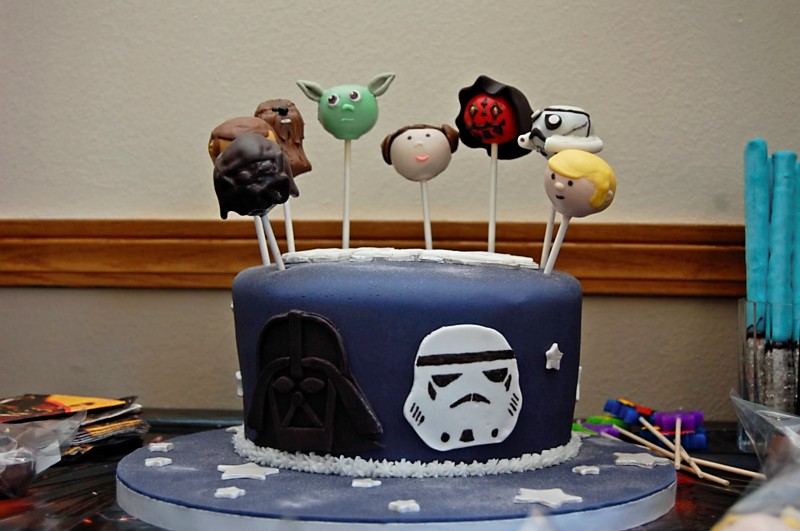 The Dark Side and Good Side Cake | Credits to: Emily

The Final Star Wars Lego Cake | Credits to: Russ Weakley
This post is just making me hungry. Not only my eyes but also making my palette crave. How about you, do you also have your favorite cakes and designs that you've been wanting to have for yourself? As for me, I can't wait for my birthday!
May the Frost be with you!
54 days to go before The Force Awakens!